From barbers and salon owners to antique furniture and barbershop collectors, different types of antique barber chairs appeal to a wide audience. The unique, old look of the chairs paired with relatively low costs makes them coveted and affordable.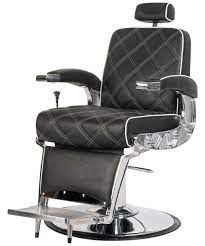 Antique Barber Chair Characteristics Throughout History
  An antique is defined as something made more than 100 years ago. Therefore, antique barber chairs need to be made in the early 1900s or before to be considered antiques.
  Ancient Barber Chair Qualities
  Since ancient times barbers have cared for the needs of people. Until the late 1700s, barbers not only cut hair and shaved faces, they also did surgical procedures on wounds, performed bloodletting and pulled teeth. The chairs used by the barbers of early times ranged from upside down wooden pails and inverted baskets to stylized chairs of the times and the folding barber chairs of the Civil War. In reality, there is not a lot known about barber chairs before the 1850s.
  Qualities of Antique Barber Chairs From the Early 1800s
  Many of the wooden barber chairs of the early 1800s were elaborately carved with ornate designs and decorative plush upholstery. In the 1850s, the barber chair industry began to take shape as companies started to make chairs specifically for barber shops. The early chairs of this period were usually crafted from wood had offered the following features:
  Taller than a regular household chair
  A headrest in a fixed position
  Reclined several degrees
  A type of foot rest or stool
  Qualities of Antique Barber Chairs From the Late 1800s
  In the last two decades of the 1800s, there were many mechanical advances made in the barber chair industry including:
  Fully reclining chairs
  Chairs that could swivel a full 360 degrees
  Hydraulic systems that allowed the chairs to be raised and lowered
  F. F. Koenigkramer Barber Chairs
  Between 1900 and 1920, Fred and Frank Koenigkramer started manufacturing hydraulic lifts for barber chairs and eventually actual barber chairs and beauty chairs under the company named Reliance. After selling the business in the 1940s, the company name became F.F. Koenigkramer Company. Their products were manufactured in Cincinnati, Ohio. Reliance or F.F Koenigkramer barber chairs are valued between $300-$1,100.
  You can typically find the manufacturer name on the metal foot grate of these chairs.
  Earlier models from the 1920s feature a porcelain base and armrests, one with no headrest and a lot of rust sold for just around $260 at Auctions International in 2019.
  Some early models feature the porcelain base with metal arms and a model like this with the original child's seat attachment sold for $1,100 in 2016.
  Theo A. Kochs Company Barber Chairs
  The Theo A. Kochs Company formed in Chicago in 1871, making these chairs some of the oldest in the U.S. Their unique designs set them apart from others. The earliest models were made from wood with leather upholstery. Some had separate foot stools. Kochs antique barber chairs range in value from $300-$3500.
  You can find images of models 1-4, 7, 8, 27-32, 34, 36, 40, Columbia, Hermann, Salerno, Windsor, and Eureka in the free online version of the 1893 Theo A. Kochs catalogue.
  A 1922 porcelain, chrome, and velvet reconditioned barber chair sold for $1,500 at auction in 2013.
  Kochs hydraulic chairs with all their parts and in good working condition sell for about $1,500 on eBay.
  Koch chairs from the 1930s and later or those with missing parts or rust sell for around $500 on eBay.
  Antique Koken Barber Chairs
  From the late 1800s to the 1950s, antique Koken barber chairs were manufactured out of St. Louis. Company founder Ernest Koken was responsible for many updates to barber chairs including reclining barber chairs, chairs that revolved, and the first pedal style hydraulic lift chair. Complete antique Koken barber chairs are valued anywhere from $500-$6,000 depending on condition, age, and model.
  Earlier versions of Koken chairs will have a higher value than later models.
  Koken chairs from the 1940s and 1950s probably won't have the elaborate wooden carvings. A chair from this time period in poor condition could be valued around $500.
  A chair from the early 1900s with a working hydraulic lift, wood carvings, and original leather upholstery in perfect original condition could be valued at $5,000-$6,000.
  Louis Hanson Barber Chairs
  Louis Hanson began his company in 1883 manufacturing picture frames in Chicago. As the company grew and made more products, they eventually made barber chairs. As with other makers, you can find the company name in some of the metal grate parts. These chairs range in value from about $500-$1,800.
  It is extremely difficult to find information online about the value of these chairs, so checking with an expert is highly recommended.
  Later models from the 1930s to 1940s in poor to fair condition sell for around $500
  A wooden model in good condition can sell for $1,200.
  A 1920s porcelain and leather model in excellent condition can sell for $1,800.
  Emil J. Paidar Company Barber Chairs
  In the early 1900s, the Emil J. Paidar Company was a top competitor with Koken. The company was successful into the 1970s. Their chairs were not unique, but collectors especially enjoy their children's barber chairs that had fun designs. Paidar barber chairs are valued between $150-$2,500.
  You can see a few of their models including No. 440, 567, 569, 570, and 822 free online from images of an original catalog.
  A kids airplane pedal car barber chair by Paidar in fair condition is worth about $1,500.
  A complete metal and leather version in good to excellent condition is worth about $2,500.
  A porcelain version with missing and nonworking parts is worth about $750.
  Vintage Barber Chairs
  To be vintage means the chair was made a long time ago, but not necessarily over 100 years ago. In the 1900s the trends in barber chair styles and materials changed with the times. Slowly the beautiful ornately carved wood gave way to chairs made of porcelain covered cast iron. Later in the 1900s other features were added to the reclining hydraulic chairs. Models from any of the barber chair manufactures made after about 1920 would be considered vintage rather than antique.
  Finding Antique Barber Chairs
  A trip to urban antique shops or some online shopping at eBay can help you find the antique barber chair of your dreams. In the late 1800s and early 1900s there were thousands of barber chairs manufactured, so they're not too hard to find.
  Antiquebarberchairs.net is a great marketplace for finding barber chairs by different manufacturers.
  You can find a unique selection of salon chairs and barber chairs on Etsy.com.
  If you like the look of old barber chairs, but want modern comforts, you can shop classic and vintage style chairs at Bright Barbers.
  Antique Barber Chair Restoration
  The process of properly restoring an antique barber chair can be long because you essentially take the chair apart, then rebuild it with new materials where needed. A high quality restoration is important to keep or add to the value of your chair.
  Custom Barber Chairs Restoration out of Atlanta, Houston, or New York City specializes in restoring these antiques.
  At AuctionAds.com you can find hundreds of listings for antique barber chair parts and accessories.
  If you're in California, The Salon Chair Guys are passionate about barber chair restoration.
  The Barber Chair Business
  If you have an antique barber chair, you can use free antique identification tips along with free online antique price guides and resources to determine what type of chair you have and it's relative value. Like many antiques, restoration affects the value of antiques like barber chairs. In some cases, a great restoration can actually help increase the value of a barber chair if the buyer wants to be able to use it.